Deposit Money into Olymp Trade Through Kasikorn Bank and Bank Card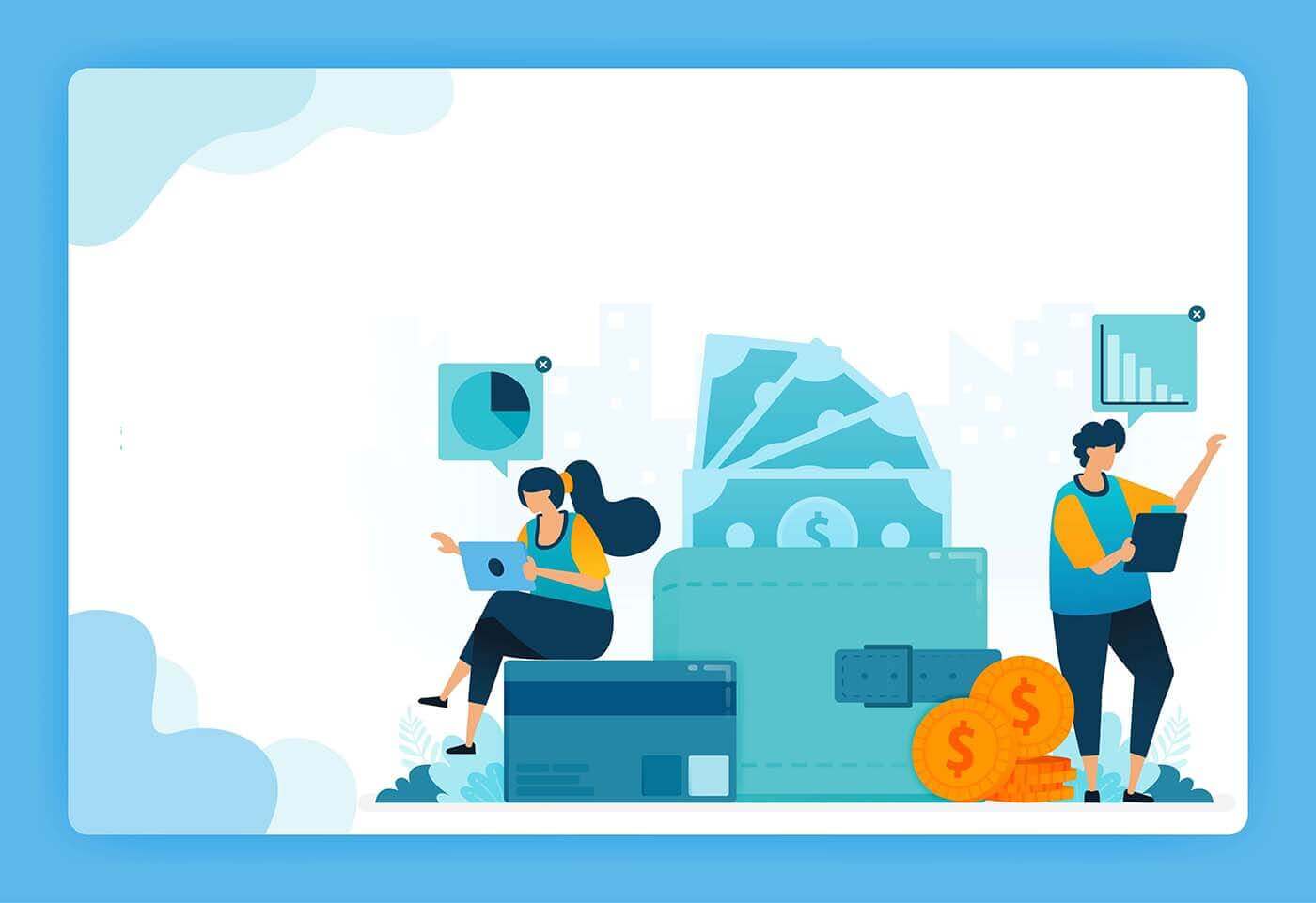 It's not only the platform service quality that is important to successful traders but also the convenience of making a deposit and withdrawing funds on Olymp Trade. Traders from Thailand often use Visa and Mastercard bank cards, as well as Kasikorn Bank e-banking services.

We want the process of carrying out non-trading financial operations on the platform to be as simple and convenient as the investment process itself.
How to Top up an Account Using a Bank Card in Thailand?
To top up your account using your Visa or Mastercard bank cards, you should have a card of any commercial bank in Thailand. It is a mandatory requirement that the bank card has your name on it.
The minimum deposit on Olymp Trade is only $19.
The maximum one-time deposit that you can make is $5000.
Step 1.
Select Deposit on the trading platform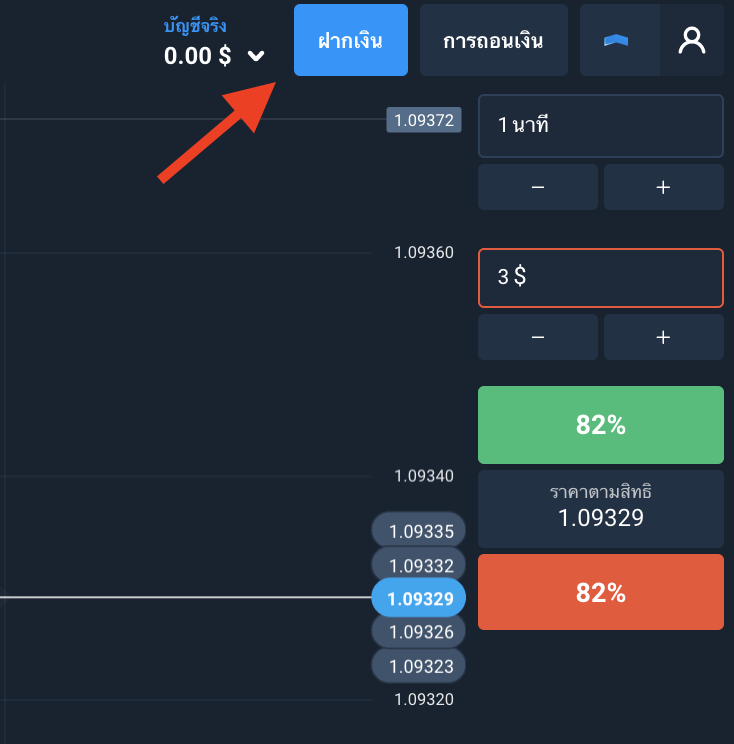 Step 2.
Select Banks cards in the Means of Payment menu. Then enter the amount (no less than $19)  
You can get additional funds for trading on the platform as bonuses. The bonus amount depends on the one of your deposit: the larger the deposit, the larger the bonus.
At this step, you can also enter a promo code if you have any.
Step 3.
Enter your bank card details in a new window:
Number
Cardholder name (exactly the way it is typed on the front of the card)
Validity
CVV
Click to Pay.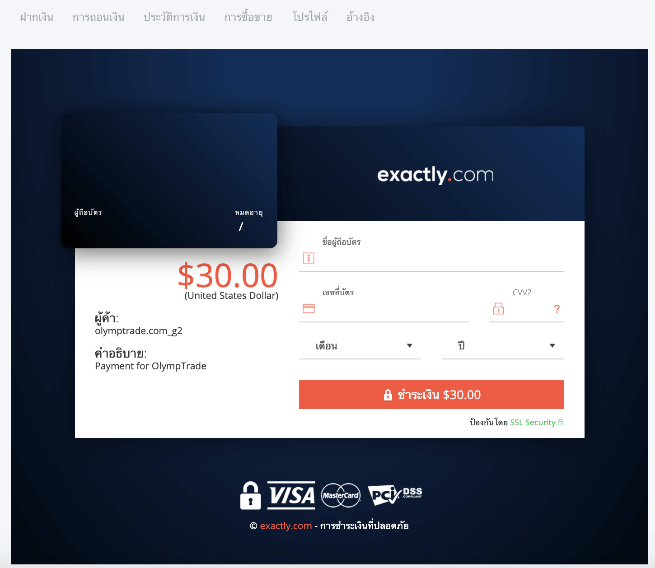 At the last step, you will receive a text message with a code to confirm the transaction. Enter it. Money will be credited to your Olymp Trade account immediately.  



Facing Difficulties While Topping up Using a Bank Card?
If you are sure that there are enough funds on your bank card to transfer to Olymp Trade, but the payment cannot be made, please check the following:
Your card cannot be used for making payments online. It happens. You can go to your bank and ask for permission to make purchases online. If you can log in to your bank account, you might be able to activate this option yourself.
You have entered incorrect card/SMS code data or the payment page's waiting period has expired. To rule out this reason, try to make a payment again.
If you can use your card to buy online, there are enough funds in your account and you have entered the data correctly, you should use a proven method of solving the problem.
Making a Deposit on Olymp Trade Using an E-wallet
To protect yourself from any troubles with making a deposit using a bank card, we suggest that you do the following:
Sign up for any of these electronic payment systems: Skrill, Neteller or WebMoney.

Top up the selected digital wallet using your bank card.
Then go back to the platform and deposit money into your Olymp Trade account using a Skrill, Neteller or WebMoney e-wallet.
There are two reasons why the broker's clients are actively using this method of making a deposit.
Firstly, because there are plenty of methods to top up electronic wallets: from a simple bank transfer to a cryptocurrency payment.
Secondly, payment systems process fund transfers to electronic wallets much faster than by the same banks. Which means you get an opportunity to use your profit faster.  
How Do I Make a Deposit Through Kasikorn Bank?
If you are making a payment online via Kasikorn Bank:
The minimum deposit is $19
The maximum one-time deposit is $15,000
To top up your Olymp Trade account, you should activate the Kasikorn Bank's Internet Banking service.
The order of making a deposit on the platform is almost the same as that with the bank cards:
Step 1. Topping up through Kasikorn Bank
Select "Deposit" on the platform
Select "Kasikorn Bank" as a means of payment
Specify the amount of your deposit (the minimum is $19, the maximum is $15 000)
Select your bonus or refuse to use it. Enter the promo code if you have any.
Click on "Deposit"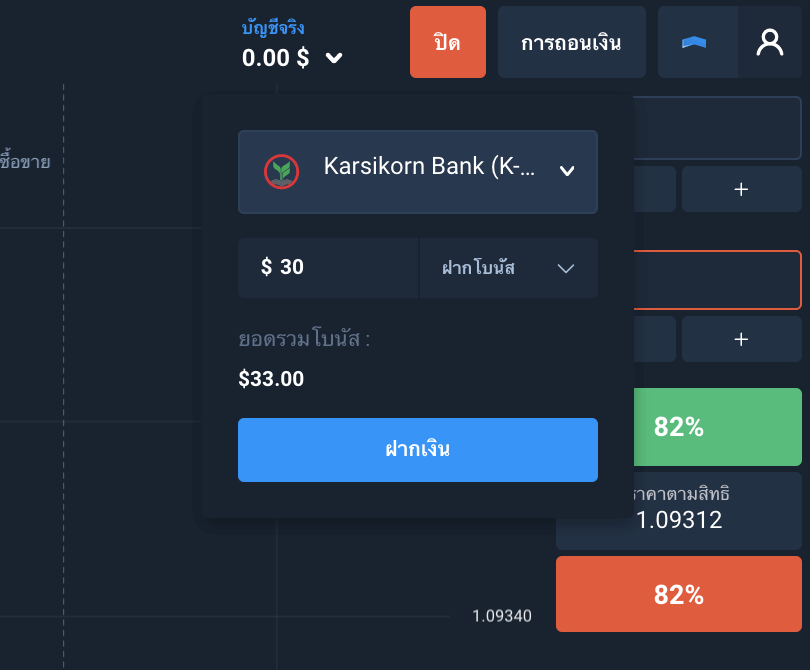 Step 2. Topping up through Kasikorn Bank
The Kasikorn Bank authorization form will open; enter your login and password to access you bank account.
You will get a confirmation code via SMS. Enter it.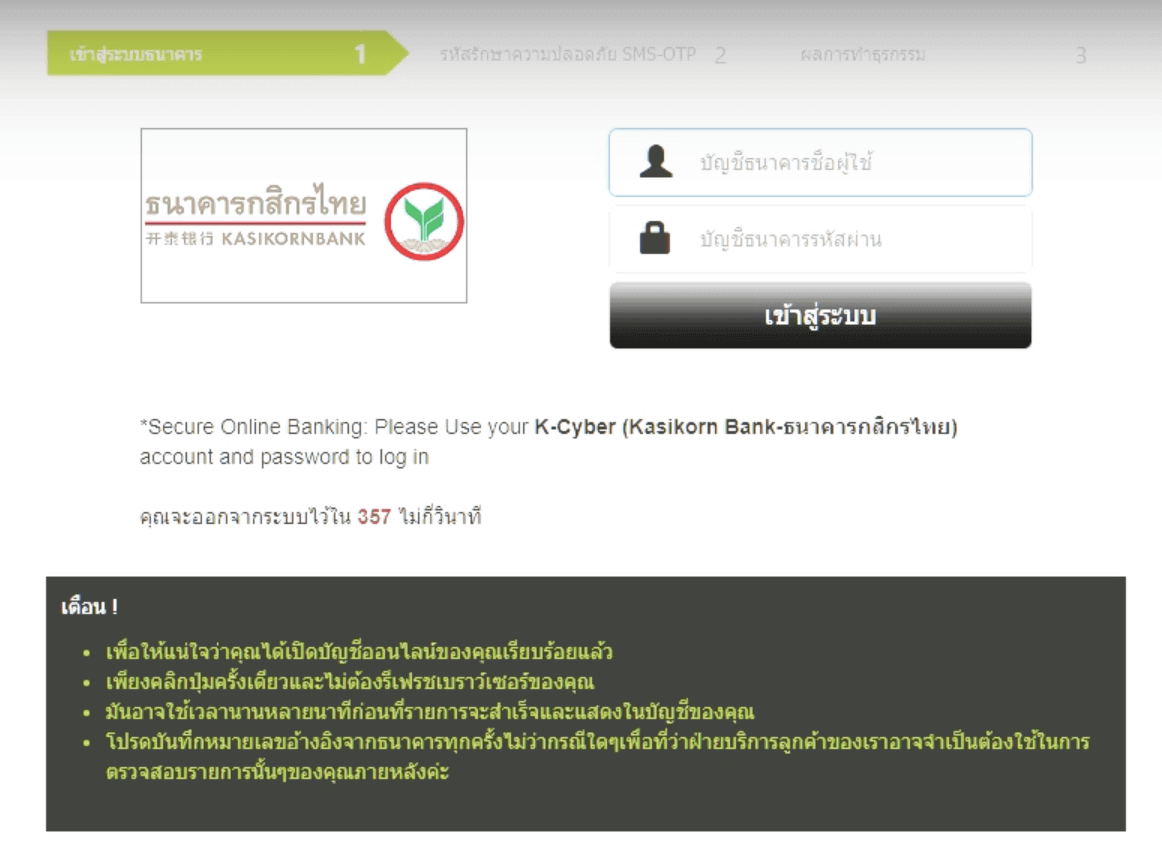 If everything has been specified correctly, the funds will be credited to your Olymp Trade account immediately.  
Having Troubles with Making a Deposit on Olymp Trade from Thailand?
If you are using a bank transfer or a bank card, but keep failing due to some error, here is what you can do:
Call the bank, find out the reason for the transaction error.
If the above step did not solve the problem, we recommend using Skrill, Neteller or WebMoney electronic payment system in the way we described above. This method works 100%.
However, if you still have troubles, you will definitely get help from the Olymp Trade support team.